ABOUT MANGO CANNABIS CO. MEDICAL MARIJUANA
An extraordinary medical marijuana dispensary experience
At Mango Cannabis, we believe in the power of cannabis to help people live their best lives. Our team is dedicated to providing you with a personalized experience that's tailored to your needs.
We're locally owned and operated, and our budtenders are hand-selected for their knowledge and training. The experience you have at one of our locations is unlike anything else out there — we have a selection that can't be beat, and prices that are unmatched by other dispensaries.
Our goal is to provide quality lab-tested OMMA-compliant products for holistic medicine. We want every patient to leave feeling like they've had a custom experience created just for them! That's why we're always working on new ways to offer more options and better services. We currently have 6 locations statewide, but our aim is to provide quality products at affordable prices in all communities across Oklahoma!
An extraordinary medical marijuana dispensary experience
Mango Cannabis Co. is a medical marijuana dispensary operating in full compliance with Oklahoma State Question 788. We strive to provide a personal, knowledgeable and caring experience for all patients across the state, aiming to be a leader within the rapidly changing medical cannabis industry. Our goal is to create and maintain a safe, warm experience for every patient, and in order to do that, we knew it was necessary to open locations in several communities. With dispensaries in Edmond, Tulsa, Norman, Lawton, NW OKC and OKC, we are able to provide that unrivaled experience to more individuals, presenting them with a unique, safe way to manage health and wellness.
Stepping into the world of cannabis can feel overwhelming, but starting your medical marijuana journey with the experts at Mango Cannabis means it doesn't have to be. Each of our locations offers the largest selection of medical marijuana products, and we put our patients first every day. When you visit a Mango location, you won't feel pushed into a particular product. Instead, our experienced, knowledgeable staff will pair you with the right product for your lifestyle and medical needs, giving you the results you're looking for. We take the time to educate you about medical marijuana so you truly understand the options you have available and feel confident in your product selections.
The products sold in our stores are the highest quality cannabis products and have been thoroughly vetted to ensure you receive a safe, consistent product every time. Whether it's edibles, concentrates, cannabis oil or just classic flower, all of our suppliers meet the strictest quality standards and are fully licensed and legally compliant. If you purchase medical marijuana from our store, you won't be playing a guessing game — the products we sell do what they say they're going to do.
We have partnered with several of the top-tier brands to ensure you consistently have the best experience – whether it be your first or fiftieth time. Just a few of the brands you'll find at each of our stores are Kosmik, Smokiez, Keef, Cookies, Leaf Logic, Flav, Wana, and many more. Come into a location near you to explore our diverse product offerings and meet our friendly staff who are ready to help.
We are proud to be one of the top Oklahoma dispensaries.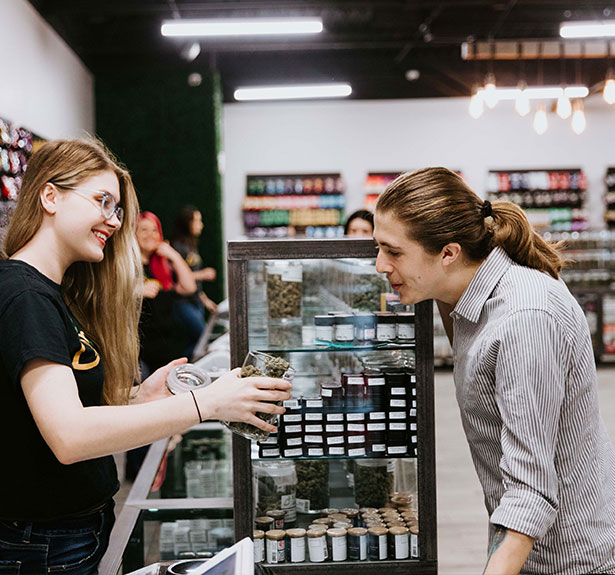 Legal Information for medical marijuana use in Oklahoma
How much marijuana are you permitted to have on your person? Who can possess a medical marijuana patient license? How do you get a medical marijuana patient license? The laws surrounding marijuana use and possession are constantly evolving, both in Oklahoma and the United States in general. We want to ensure you have access to the information you need to fully benefit from medicinal cannabis.
Visit the Oklahoma Medical Marijuana Authority website to learn more about current legal information as well as how to apply for a medical marijuana card. When you are ready to make a purchase, stop in to your nearest Mango Cannabis location today.